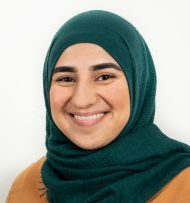 Melike Yar graduated at the University of Tilburg in 2016 at the education Clinical Psychology Adults and Elderly. After graduation she mainly gained experience in diagnostics and treatments in nursing homes and guiding care teams. Starting in January 2019 she start her two-year training to be a qualified BIG registered health care psychologist (directory of mental health care psychologists). She wants to enhance her expertise on individual treatment of adults from 18 years on.
Melike Yar:
Mutual frankness and having a 'click' with each other is the basis of a satisfying therapy. During the treatment I find it important to work together and to explore the complaints so we do understand them, set up goals and search for new insights and expectations. The aim is that the client experiences sufficient coping styles and strenght to be able to continue on his or her own after treatment.
Melike is available for consultations at Tuesday afternoon and Friday afternoon at the location Brakkenstein.