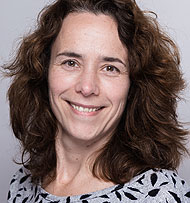 Marjan Pulles-Hendriks graduated at Radboud University, Nijmegen, in 1997. After graduation she worked as a psychologist in various fields in general health care. She has built a body of experience in both primary and secondary mental health care for adults and the elderly.
Marjan is a qualified BIG (directory of mental health care psychologists; BIG registration number 69060920325) health care psychologist; a registered ELP® primary mental health care provider; Cognitive Behaviour Therapist VGCt®; senior Schema therapist and EMDR-therapist. She is also qualified ParkinsonNet Therapist.
Marjan Pulles:
Over the years, my interest has turned increasingly towards primary mental health care. This led me to founding Praktijk voor Psychologie in 2008. I enjoy the challenge of working with clients to find the underlying causes of their issues, and together with them finding ways of addressing them. My goal is that by the end of their treatment, my clients have tools they need to be able to continue on their own.
Marjan is available for consultations on Tuesdays, Thursdays and Fridays at Brakkenstein (Nijmegen) and on Wednesdays in the morning at Villa Westhof (Nijmegen-Oost).