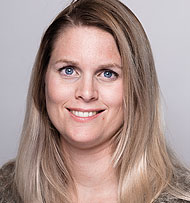 Dieuwertje Otten graduated at Radboud University Nijmegen in 2008. After graduation she worked at different settings within the primary (GBGGZ) en secondary (SGGZ) mental health care with adults. In her work she uses techniques from the cognitive behaviour therapy, EMDR and MBCT. Also she has experiences with vocational reintegration and coaching. (BIG registration number 69917082325)
Dieuwertje Otten:
Within the Generalistic Basic Mental Health Care (Generalistische Basis GGZ) I like to work with clients to decrease their complaints. I work frequently with cognitive behaviour therapy, but I use also EMDR or mindfulness exercises. I find it important to work with a target and to empower the client. Tuning in with the client is required for that.
Dieuwertje is available for consultations at the practice Nijmegen-Oost (Villa Westhof).